Route Name
Hokkaido (Tomakomai) - Sendai-Nagoya : [ Hokkaido (Tomakomai)-Stopover at Sendai-Nagoya 1,330Km, Hokkaido (Tomakomai) - Sendai 560km, Sendai -Nagoya 770km / Hokkaido (Tomakomai)-Stopover at Sendai- Nagoya 40hrs, Hokkaido (Tomakomai) - Sendai 15hrs 20min, Sendai -Nagoya 21hrs 40min ]
Navigation ship company
Taiheiyo Ferry
Route summary
Nagoya to Sendai to Tomakomai Route Tomakomai to Sendai to Nagoya, 3 ships of Ishikari, Kiso, and Kitakami are in service for the 1330km(826 mile) travel.
Service ship
Ishikari/Kiso/Kitakami
contact us
+81-(0)52-582-8611
011-281-3311(Sapporo), 022-388-8757(Sendai), 03-3564-4161(Tokyo), 052-582-8611(Nagoya)
---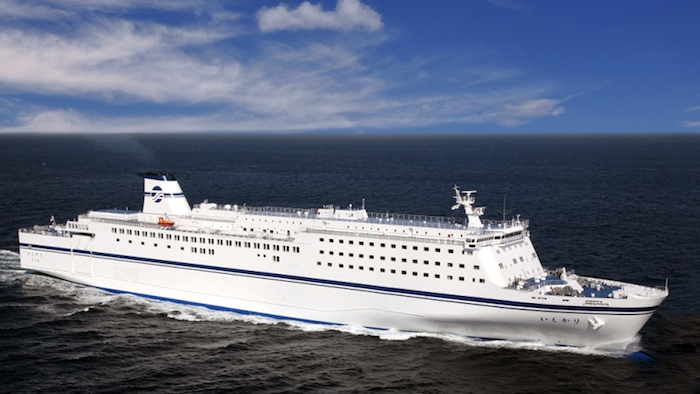 Ishikari
●Ishikari
Tonnage
15,762 tons
Length
199.9 meters
Guests
777
Vehicles
100
Truck
184
 
 
●Kiso
Tonnage
15,795 tons
Length
199.9 meters
Guests
768
Vehicles
113
Truck
183
 
 
●Kitakami
Tonnage
13,694 tons
Length
192.5 meters
Guests
535
Vehicles
146
Truck
166
 
 

Passenger fares
"Ishikari" & "Kiso"

Sendai/Miyagi

Tomakomai/Hokkaido

7,200

Nagoya/Aichi

8,300

10,800
     ※Please contact us for fare of the "Kitakami".
Please check the Ferry Boat home page for departure and arrival times, which may change depending on dates, fares and cabin class.
Fares including tax are current as of April 1, 2019. Please indicate the desired fare and cabin class, such as adult, one way, second class shared cabin.